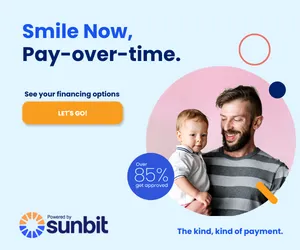 No Hard Credit Checks!

|

85% Approval Rate!

|

Lightning Fast Response!
Ready to see your monthly payment options?
Get Started Now!
CareCredit
We are pleased to offer CareCredit, another option for patient payment program. CareCredit offers special financing and low monthly payment options, no up-front costs, and no-prepayment penalties.
For fees from $300 to $25,000, upon request and approval, CareCredit offers a comprehensive range of plans with low minimum monthly payments that fit comfortably into every budget.
With CareCredit, you can:
Start treatment and care immediately and pay over time
Pay for other medical expenses for you and your family without having to reapply
Pay for deductibles and treatment not covered by insurance
Have no annual fees.
To apply, click here or on the card above.

You will receive a decision immediately. We can assist you in applying for these programs. For more information, please contact our office at (763) 552-1616.


Dental Insurance
For patients with dental insurance, we are glad to be able to help you to maximize your policy benefits. We'd be happy to provide an ESTIMATE of your coverage prior to your appointment. We use our best efforts to provide as accurate an estimate that we can but you, the patient, are ultimately responsible to know and understand your own dental insurance policy, and will be responsible for any patient portion fees due at time of service. Please call (763) 552-1616 with any questions.
Our practice accepts a variety of insurance plans including most Delta Dental plans. We encourage our patients to be knowledgeable regarding their plans and to know and understand their individual dental insurance coverage and patient responsibility. We are proud of our team's ability to assist patients with questions and issues concerning their individual dental insurance plans.
Dental insurance is a contract between your employer and the insurance company. The benefits you receive depend on the policy your employer has negotiated and are not necessarily based on assuring that you achieve a high quality result. We realize this can be confusing and complex. Our insurance coordinator is available to review your policy and provide a complimentary benefit analysis, as well as assist you in filing claims to help you to maximize the reimbursement to which you are entitled. We will process all insurance company forms. The amount of compensation you receive will be dependent upon your coverage plan and specifics.
Cosmetic procedures are generally not covered by most dental insurance policies; however, partial benefits may be available if teeth are broken or have previous dental fillings, bonding or crowns.